"With this team, we can acheive anything" – Blair Edwards, Director
Blair Edwards Landscaping is an award-winning family owned Garden Design Studio and Construction Company, based in Melbourne's Inner West.
With 20 years experience in designing and creating modern, innovative, beautiful and functional gardens for our clients, we know how to provide an outdoor area that will stand the test of time.
Our team can work with outdoor spaces of any size – from small courtyards to family sized backyards. And we pride ourselves on working to the highest standard, offering quality workmanship and materials in every project.
We offer a personalised and professional service, which is tailored specifically to individual client budgets and requirements, and our mission is to add value to our clients' home and lifestyle with every garden we create.
We guarantee 100% satisfaction on every job. Every time.
Meet Blair Edwards
Director
Blair grew up in Portland in country Victoria, and from a very young age he loved nothing more than spending quality time with his own father, who was a builder by trade, helping him renovate their different homes.
Those formative years sparked a love of construction in Blair, so after completing his VCE he moved to Melbourne to study furniture design at RMIT, as well as Landscape Construction and Horticulture at Holmesglen. He then successfully completed an award-winning landscaping apprenticeship, before also completing a Diploma of Building and Construction (Building) to further his already valuable skills and knowledge.
Blair now has 20 years experience in landscape design and construction, and has showcased his skills at large landscaping firms both domestically and abroad to great acclaim.
He prides himself on his workmanship and quality, and has built an excellent reputation throughout the industry by completing projects for his clients of the highest standard consistently.
As Blair is a committed father of three young boys himself (who he hopes one day may follow in his footsteps), he knows the impact that a beautiful, harmonious and functional garden can have on someone's life.
Not only can it finish the look of a home, but it can bring families and friends together, creating memories for years to come.
And he is looking forward to creating this for you.
Meet Natalie Edwards
Manager
Natalie was born and raised in Melbourne's West. She has always had a love for beautiful gardens, growing her own vegetables for her family to enjoy, and cooking, which was a passion she inherited from her Greek grandparents.
When Natalie finished her VCE she completed a Bachelor of Business Management/Marketing at Monash University, before going on to work for many high profile businesses including NAB, Flight Centre, Sensis- Yellow Pages, Fairfax Digital and The Age.
In her late 20's Natalie changed career paths to pursue her dream job as a Primary School Teacher. After working for 8 years as a Teacher, she embarked on her next challenge – becoming a mother, and managing Blair's landscaping business. Natalie also is a Co-founder to side hustle Cheeky Green, an indoor plant delivery business.
Natalie is a known expert on all things green for both inside and outside the home, and she provides valuable advice on all projects while managing the business and running around after her three boys.
Meet Joel Sharman
Final Year Apprentice
Joel is a true local, born and bred in Melbourne's North, where he lives to this day. He joined Blair Edwards Landscaping at the beginning of 2018 at age 18, and has proved himself to be a valuable addition since.
Joel is now in his final year of his apprenticeship, and is currently in the process of completing a Certificate III in Landscape Construction at Melbourne Polytechnic in Heidelberg, to further his already impressive skill-set.
Joel loves working with Blair and transforming gardens and outdoor spaces into areas their clients can only dream of. And being a local boy he, like Blair, knows what will work, and what will not, to ensure the gardens they create stand the test of time.
Diploma of Building and Construction (Building)
Blair completed his Diploma of Building and Construction in 2017.
Certificate III Landscape Construction
Blair completed a 4 year Landscape Apprenticeship at Holmesglen, and became a qualified landscaper in 2003.
Joel is currently in his final year of his Apprenticeship, and is completing his certificate through Melbourne Polytechnic.
Certificate III Landscape Horticulture
Blair Edwards completed a Certificate III in Horticulture specialising in Landscape Construction at Holmesglen, in 2003.
Certificate III Furniture Design
Blair's completed a Certificate III in Furniture Design at RMIT University in 2002 where he focused on his passion for outdoor furniture and design.
Bachelor of Business (Marketing/Management)
Natalie completed a Bachelor of Business Management/Marketing at Monash University in 2006.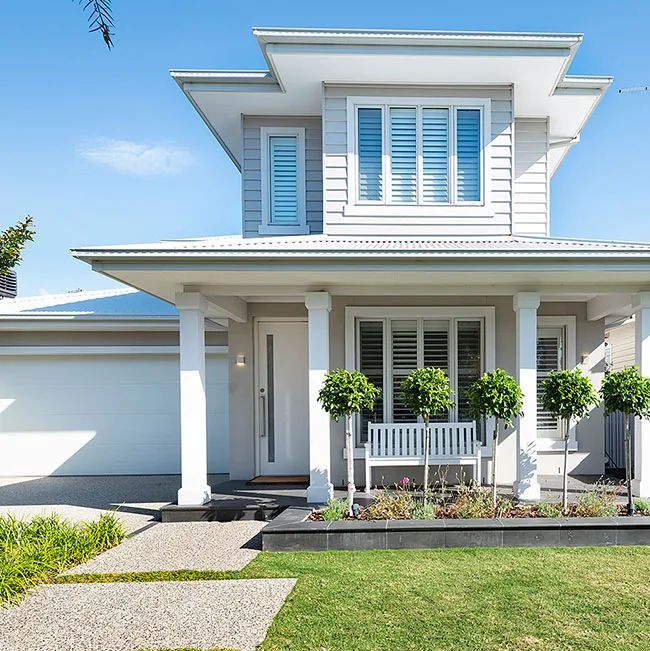 A Knockdown Rebuild For a Growing Family Our clients wanted to live in the Newport/Williamstown area but kept missing out at auction. So they decided to get creative and bought a house that wasn't their perfect home. After many inspections of display homes, our...
read more